The History of Rock Fantasy
The current Rock Fantasy was opened two doors down from the original, at 79 west Main Street on November 5th 1985. After several years on the county fair and flea market circuit selling rock concert t-shirts and the ill fated Rock N Roll Fantasy on route 211 in 1979. I decided to open a store selling hard to find at the time LP's by bands like Metallica, Slayer, Venom, Exodus, Iron Maiden, etc. I wanted a store that would be close to home so music lovers wouldn't have to drive hours to find these underground bands. I opened up the store with about 2 grand and the blessing of my parents. The first couple of months were rocky but as the word of mouth grew the customers started coming in to buy LP's, Shirts, Pins, Posters, back patches, and other rock merchandise.
Soon we were having bands in signing autographs, and things were taking off.
In the late 1980's we branched in to comics, it was short lived though and I almost put the place under as my knowledge of comic books was very limited. So in 1990 we dumped the comics and I hired a friend I met through Metal Blade Records (Kara Sprague). Her and I turned the place around, once again concentrating on the music.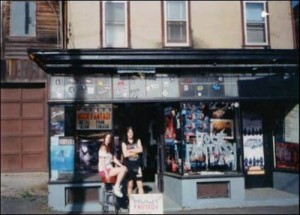 In the early 90s I moved the store to 75 West Main Street because we needed a larger location. Over the years along with the metal merchandise I was always trying something different.  Comics, slot car racing, pinball, and currently wrestling merchandise are just some of the things we have sold over the years. We have had a lot of notable bands stop by; Alice in Chains, Morbid Angel, Kreator, Exodus, Death Angel, Forbidden, Bang Tango, Sepultura, Nuclear Assault, Scatterbrain, Sick of it All, Skid Row, and Overkill just to name a few. Unfortunately due to no local venues in the last several years it has been quite hard to have the bands in.
We also been having Pro Wrestlers come in to sign autographs and take photos with the fans.  Luna Vachon, King Kong Bundy, AFA, Gangrel, The Sandman, Raven, Stevie Richards, Lance Storm, William Regal, Al Snow, Jerry Lynn, Axl Rotten, Justin Credible, Tony Devito, Abdullah the Butcher, Jake "The Snake" Roberts, Iron Shiek, La Parka, Crowbar, Kimona Wannlaya, Dawn Marie, Tommy Dreamer, Super Nova, Jim the Anvil, Slyck Wagner Brown, April Hunter, Kamala, Test, Kip James, BG James and many others.
In the last few years our Hardcore/Punk section has thrived with the help of my former employee Vista who I give credit for helping build it up. We have also sold demos of numerous local bands and employed many of their members such as Bent Sirkis, Morpheus Descends, Sister Moon, Inner Dam, Fear Within, Poor Excuse, Militia, Deranged, and countless others.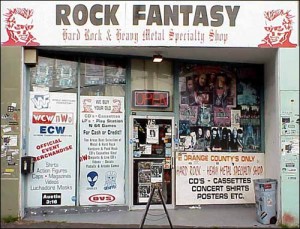 Well here I am in 2006, wow time has flown by we are still selling Rock and Roll merchandise. We now sell adult videos, along with the TNA and WWE merchandise, EMO, Hardcore, Metal, and Video Games. In the summer of 2006, I sold off a few of the pinball machines that were in the store to make room for some renovations. The end result has been a lot more space for merchandise, almost doubling the size of the back room. Plus lots more space for DVDs and T-Shirts.
Now here we are in the year 2010. Rock Fantasy has recently celebrated 25 years of being the Hudson Valley's concert shop and is now also known  as one of the best smoke shops in the area. The pro wrestling merchandise is gone, and what was old is again new. The pinball machines and records have returned! Classic rock to the latest metal releases on LP again new and used!  Plus, we have pinball machines for sale!  We are still the home base for the Orange County Pinball Club which meets every Thursday evening.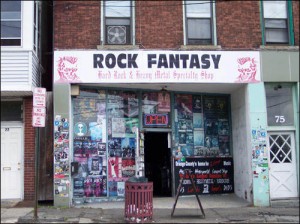 Since 2010 we gradually became a full service record shop again re-building vinyl racks that we once took to the dump. In 2013 we took over the former deli next door and turned it into a pinball room. We added many games and began hosting nationally ranked tournaments, becoming a showroom for the latest pinball machines – All along with enlarging the smoke shop section and record sections.
In late 2019 we were having trouble obtaining a lease at the 75 West Main Street location. We started shopping around and made the hard decision to leave the block we had been on for 34 years – and make the big move to 12 East Main Street. This so far has been a blessing with a much larger storefront to serve our customers, a bigger record department, smoke shop and a much larger area to hold our pinball collection.