Pinball machines have always had a special place in the heart of Rock Fantasy's owner Stephen Keeler. In his formative years he would spend countless hours in the arcades on the boardwalks of the Jersey Shore and Lake George NY on his family's summer vacations. Pinballs have always been apart of Rock Fantasy since opening up in the 1980's. It all started when a KISS  pinball was purchased to accentuate the store, then several more were added  over the years. At one time more than 20 games were on display. Currently 9 vintage pinball tables are on display in the store for sale, and the store is the home of the Orange County Pinball Club. The OCPC is a group that was formed in the 1990's.The group holds tournaments through the the year in various game rooms in the surrounding area and attends pinball festivals in the North East.
In March of 2013, Rock Fantasy enlarged taking over an abandoned store front next to the shop adding an 800 square foot pinball room to the existing smoke shop and record store. The pinball room is open to the public during regular business hours with thirty two games currently are on location at the shop to enjoy!
Game lineup as of October 2013:
  Bally Viking
Stern Seawitch
Stern ACDC – Let There Be Rock
Bally Medusa
Stern NASCAR
Bally Creature From the Black Lagoon
Bally World Cup Soccer
Williams Fish Tales
Williams Gorgar
Bally Rolling Stones
Stern Rolling Stones
Stern Cheetah
Stern Metallica -Master of Puppets
Stern Transformers – Decepticon LE
Stern Spiderman
Stern XMen PRO
Stern Avengers Blue LE
Stern Star Trek PRO
Bally Nitro Groundshaker
Gottlieb Big Brave
Williams Star Trek Next Generation
Bally Kiss
Bally Fireball Classic
Harlem Globetrotters – $1,500
Bride of Pinbot – $2,199
Monster Bash
 Anyone interested in joining the Orange County Pinball Club can either inquire in the store with Steve or look us up on Facebook under "OCPC – Orange County Pinball Club." We meet every Thursday night to play. Recently an international film crew chose us to be filmed for a pinball documentary. Pictures from this and other pinball events can be seen below.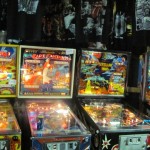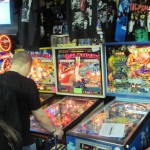 Papa 14!